Lakshmi Mittal Biography
Indian born British steel billionaire and one of the richest men in the world according to Forbes business magazine.

Lakshmi Mittal photoThe London-based, Rajasthan born steel baron is the Chairman and CEO of Mittal Steel Company and the world's 3rd richest man.

Lakshmi Narayan Mittal also known as Lakshmi Niwas Mittal is a billionaire industrialist, born in Rajasthan, India in 1950. Lakshmi graduated from St. Xavier's College in Calcutta where he received a Bachelor of Commerce degree. He later married Usha Mittal, and had a son and daughter.

Mittal began his career working in the family's steelmaking business in India, and has over 30 years of experience working in steel and related industries. Mittal founded the company Mittal Steel (formerly the LNM Group) in 1976 and has been responsible for the development of its businesses ever since. Mittal Steel is a global steel producer with operations in 14 countries.

Mittal pioneered the development of integrated mini-mills and the use of Direct Reduced Iron or "DRI" as a scrap substitute for steelmaking and led the consolidation process of the global steel industry. Mittal Steel is the largest steelmaker in the world, with shipments of 42.1 million tons of steel and profits of over $22 billion in 2004.

Mittal was awarded Fortune magazines "European Businessman of the Year 2004" and also "Steelmaker of the Year" in 1996 by New Steel, and the "Willy Korf Steel Vision Award" in 1998, for outstanding vision, entrepreneurship, leadership and success in global steel development from American Metal Market and PaineWeber's World Steel Dynamics. In 2002 he was involved in a political scandal with British Prime Minister Tony Blair, when a donation he made to the Labour party led to Blair's intervention in a business deal flavoring Mittal, it was announced later he donated £2 million to the Labour Party.

Mittal is an active philanthropist and a member of a few trusts. Mittal is a member of the Foreign Investment Council in Kazakhstan, the International Investment Council in South Africa, the World Economic Forum's International Business Council and the International Iron and Steel Institute's Executive Committee. He is a Director of ICICI Bank Limited and is on the Advisory Board of the Kellogg School of Management in the U.S. In March 2005, Forbes Magazine named him the 3rd richest man in the world and the richest non-American, with an estimated wealth of US$25 billion.

He is the wealthiest person in Britain. His house in Kensington, bought in 2003 for $128 million is the most expensive house ever purchased. He also paid upwards of $55 million to host his daughter's wedding celebration in Versailles in 2004.
Lakshmi Mittal
Lakshmi Mittal
Lakshmi Mittal
Lakshmi Mittal
Lakshmi Mittal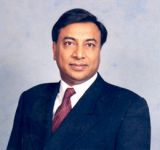 Lakshmi Mittal
Lakshmi Mittal
Lakshmi Mittal
Lakshmi Mittal
Lakshmi Mittal - TBD
FT ArcelorMittal Boldness in Business Awards 2011: Interview with Lakshmi Mittal